In this detailed step-by-step guide, we have explained the process for applying for a Saudi family visit visa.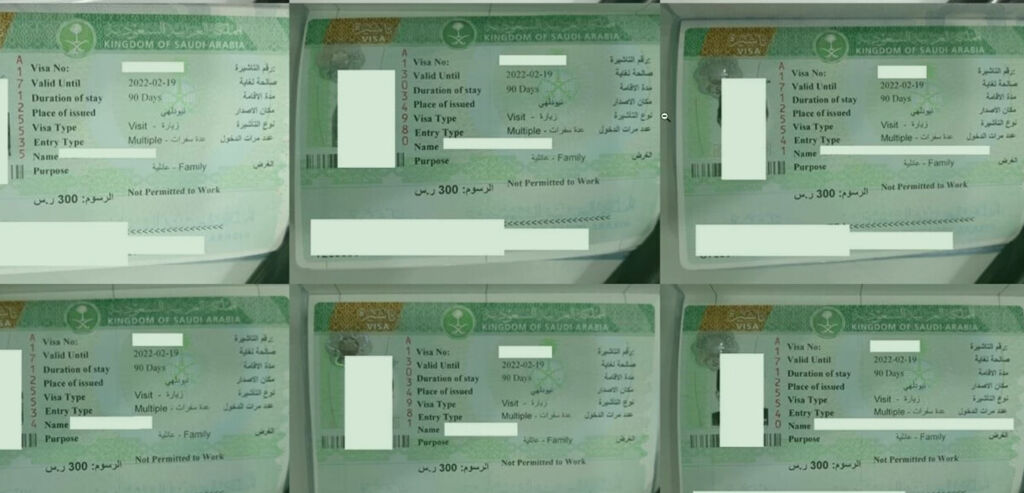 Family Visit Visa Application Eligibility
You can only apply for family visit visa for your
– Parents
– Children
– Husband / Wife
– Mother in law / Father in law
– Sister in Law
– Grand Parents
– Brothers / Sisters of Foreign Husband / Wife married to Saudi locals
Family Visit Visa Application requirements

– Valid Passport of the Sponsor
– Valid Iqamah of the Sponsor
– Valid Passport of the Applicants
– Nafath Application Activated on Phone
– Any Iqama Profession (Including Labor or House Driver)
Open your browser, preferably on a computer, and visit https://visa.mofa.gov.sa/Account/Loginindividuals

Change Website Language

Change the website language to English by click on the E Symbol at the top left of the screen

Login Using Nifad (National Sign On) with Absher Account

Click on Login to proceeding to login via your Absher Account

Change Nifad Site Language to English

This step is optional

Enter Iqama ID, Click on Login

Enter your Iqama and Click on Login. You must have Nifad Application Downloaded and Signed in on your Phone with the registered Phone number. Click here to download from Google Playstore or Click Here to Download from Apple Store. Enter the code displayed on your phone to Complete Login Process.

Enter Address, Phone Number, Email. Click Save

Enter your Address, Registered Mobile number and Email ID. Click on Save

Once Data is Saved, Click Close

Click on close to proceed to the Visa Platform Dashboard

Apply for Family Visit Visa

In the Visa Platform Dashboard, Choose Family Visit Visa Application for Residents

Add Applicants for Visit Visa

For the 'Visit Objectives' cell, you will be required to type in 'Family Visit' in Arabic (طلب تأشيرة زيارة عائلة)
For 'Entry Visa Number' cell, Enter your Visa Number stamped on top of your passport. However, you can also choose to leave it in case of a first-time visit.
Under Wanted to Visit, Click on Add to Start Adding Applicants.

Fill Visit Visa Application form

– Fill in all the Personal Information of the applicant, including their Nationality, Arabic Family Name, Arabic Grand Name, Arabic Father Name,  Arabic First Name, Birth Date, Birth Place, Gender, Occupation (must be typed in Arabic), Mobile, Email, Religion and Relation.
– The applicant's information provided must match accurately with their passport.
– On the same page fill in the applicant's Passport Information, including Passport Number, Passport Type, Passport Issue Date, Passport Expiry Date, and Passport Issue Place.
– Fill in the applicant's Visa Information, including Coming Place (your nearest Saudi Embassy city in your country) and Number of Entries which is the type of family visit visa (Multiple Entry/Single Entry) you want to apply for.
The single-entry visit visa is issued for a period of 30 days only with 8 possible extensions of 30 days each i.e. 270 days.
The multiple-entry visit visa is issued for a period of 90 days only which can be extended for 30 days (Grace Period) via Tawasul Request
Click on 'Add' after filling up all the required information correctly.

Save Visa Application form

The Applicant's personal information will now be displayed on the screen under the 'Wanted to Visit' Table. If you want to apply for a family visit visa for more than one family member, click on the "Add" button again to enter the details of the second applicant who wants to come to KSA. Otherwise,
Check "Agreement Approval" and Click on the "Save" button

Click on ارسال to close the Survey Pop Up

After Saving the Application, Close the Survey Pop Up as shown

Print Visa Application in Arabic

Click on طباعة to Print in Arabic.
Note the application number that is generated

Visit Visa Application form Official Submission

The next step is to take this VISA application form to your sponsor (Kafeel) to sign and stamp the document.
The Chamber of Commerce attestation for private employees is being carried out online. So once you have completed the application, just share it with your Public relationship Officer (PRO) or the Human Resource(HR) Team to attest it. Only once the Application form is attested by Chamber of Commerce, Your Application is officially submitted.
You can check your Visit Visa Chamber status by visiting visa.mofa.gov.sa and Entering your application number and Iqama ID number. You should see the screen as shown.

Track Visit Visa Application Status

After the sponsor has signed and stamped the application form, it typically takes a week or less for the approval status to appear in the MOFA site. On the MOFA website, under the 'Enquiry' column, you may use the order number and the applicant's record number (Iqama number) to verify the progress of the MOFA visa application.
If the visa application has been granted, the MOFA website will display 'Visa Document' in place of the 'Request a Family Visa' application form. Additionally, the applicant's 'Order Number' will now be changed to the applicant's 'Visa Document Number'.

👉 Recommended: Check Status of Saudi Visit Visa Application

You can now Save the visa document and Send the document to get it stamped outside Saudi Arabia.

Family Visit Visa Stamping Procedure and Fees

Visa Stamping must be done within 90 days of MOFA Visa Approval date.
Upon successfully obtaining the visa, share the copy of the visa along with the respective passport to travel agents in India who will obtain the stamping.

The charges for stamping vary with Age. Higher the age = More cost.
Typically,

Visit Visa Stamping Charges for
– Age 0 – 40 ~ Rs. 12000
– Age 41 – 50 ~ Rs. 12500
– Age 51 – 65 ~ Rs. 13000
– Age 65 Above Rs. 19000

Connect with a Travel Agent in India for Visa Stamping

If everything goes well, you should get your passport with your visa stamped on it within 2-3 Weeks.
Visa Stamping Agents in India
(Contact us to Advertise your company here)
---
SUPPORT THE CONSTRUCTION OF A NEW MOSQUE!
Help us build a new Masjid by donating today.
Donate Now
Join Our New Community Facebook Group